I've been putting together a plan to give my office a makeover, starting with the desk! Read on to see how I did this rustic desk makeover with faux wood finish for a complete farmhouse style transformation!
Happy Thursday! I know, I know – I still owe you a reveal of my Farmhouse Master Bedroom Makeover. It's coming.. eventually. After all the issues we had with it, I just lost my steam so it's on hold. Instead, I've been working on my office!
I have been working from home for almost a year now, so having a dedicated space is very helpful. Today I'm joining up with the lovely ladies of the #ThriftStoreChallenge to show you my rustic desk makeover from a Facebook Marketplace find! I've been working on getting it organized and figuring out where I want to go decor wise – which led to this makeover! I took this plain desk and gave it a farmhouse style makeover with a faux wood finish.
Disclaimer: This post contains affiliate links, which means I may receive a small commission when you purchase an item at no additional cost to you. Thank you for supporting Thriftwood Home!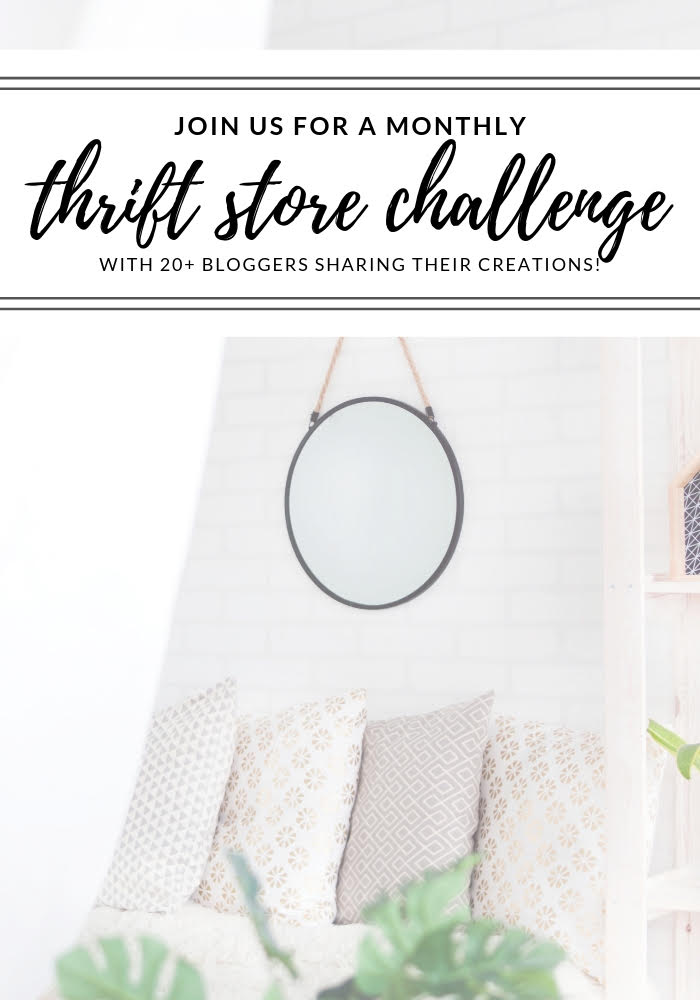 The Rules:
Upcycle an item(s) from a thrift store, resale store, or garage sale into a new piece of decor.
There's no monthly theme.
There's no budget to stick to.
Meet the Hosts
Angela | Simply Beautiful By Angela – Pili | My Sweet Things – Beverly | Across the Blvd – Gail | Purple Hues and Me – Chas | Chas' Crazy Creations – Michelle | Our Craft Mom – Meredith | Thriftwood Home – Kathleen | Our Hopeful Home – Jenny | Cookies Coffee and Crafts
We took a break over November + December for the holidays, but I'm so excited to be back to upcyling our thrifted finds! I absolutely love seeing what everyone shares each month, so be sure to check out the rest of the projects that are linked below.
Now.. onto the rustic desk makeover! Here is what I started with:
I got this little desk from Facebook Market place almost three years ago. I've always planned on giving it a makeover. It's a great size for my small office, though it is lacking in storage space with just two small drawers.
You can get a little glimpse as to why I need to organize my office from these photos. Since I don't have a dedicated spot for things, I end up throwing everything anywhere. Which just makes it worse! I think I have too much furniture in here which doesn't help. A table for my crafting/sewing. My desk. Two Ikea Expedit (the version before the Kallax) shelves. Plus a bookshelf cabinet that I also want to paint!
I hit up Pinterest to gather some inspiration for my desk, but couldn't find anything I really loved. My idea was to have a rustic farmhouse style, but couldn't find something perfect. I considered buying a new desk for more storage, but they were so pricey. Instead I started looking through some of the desks I loved on Wayfair to get ideas for a makeover. One that I LOVED was the Sevan Secretary Desk with Hutch, but again it had little storage space. Not to mention the $430 price tag was WAY more than I wanted to spend!!
One day I had the great "A HA" moment and realized what I should do. The Sevan Desk was so similar to my desk in structure – so I could just give it a makeover! It wouldn't have the hutch, but I could do without that. I already had some Fusion Mineral Paint in 'Casement' on hand, so I didn't even have to buy any new supplies! Here's what I used:
Rustic Desk Makeover: Supplies Needed
Thrifted/vintage desk
Fusion Mineral Paint 'Casement' (or white chalk paint)
Paintbrushes in a few different sizes (one for painting, two for the wax finish). I always use dollar store brushes but you can find them on Amazon too
I started by painting the legs and drawers of the desk in 'Casement'. You can also use white chalk paint, but I was using what I had on hand. I did two light coats of paint and had great coverage. I wanted to distress the desk to add to the 'rustic' feel, so I wasn't worried about brush strokes.
Since the desk was missing part of a handle when I got it, I needed to switch them out. There are two different styles I'm considering:
I love the look of both knobs on their own, but not when two are side by side for a pull. So I will either drill a new hole in the centre for a single knob OR wait for my next trip to Hobby Lobby and pick out a pull
What would you use for knobs on this rustic desk makeover??
Rustic Desk Makeover: Faux Wood Top
Now onto the faux wood top! My desk had decorative trim around it, which was easy to remove. It was held on by screws so it came off in a few minutes. Once it's warmer out, I plan to spray paint the trim and re-attach it.
When I started working on the top, I really didn't know what to try first. I started with a white wash using Casement. I mixed about 3 parts water with 1 part Casement, and it was okay.
The corner of the desk did not want to hold any paint, so it kept wiping away. I added another coat but the same thing happened. I added a dry brushed coat of grey to see if that would help. It helped, but that corner still wouldn't take paint!
I ended up doing a solid coat of grey in that corner and let it dry. Now onto the wax! I started with Clear Wax, as I've heard that makes Antique Wax easier to work with.
It definitely helped to lighten up the finish and create a faux wood look. I added a coat of Antique Wax on top to darken it.
That photo is from when the wax was still drying, and I absolutely love how it turned out! It was a bit of a process to get it there, but so worth it. I'm thinking of giving my bookcase cabinet a similar makeover too. Once I try it again, I will put together a full post on the exact steps for the finish – so stay tuned!
Are you ready to see the full rustic desk makeover??
As you can see, I need to organize my office! Stay tuned for that whole process – but for now, I'm loving the Rustic desk makeover!
And now for some more thrift goodness!
Check out what my fellow upcyclers created below!
Want to save this post for later? Pin the image below!