Happy Thursday! You may have seen a glimpse at this project in yesterday's One Room Challenge post, but today I'm going to explain a little more about how I found a way to turn a desk into nightstands! Even better, there are four other thrifty projects to inspire you for the October Thrift Store Challenge!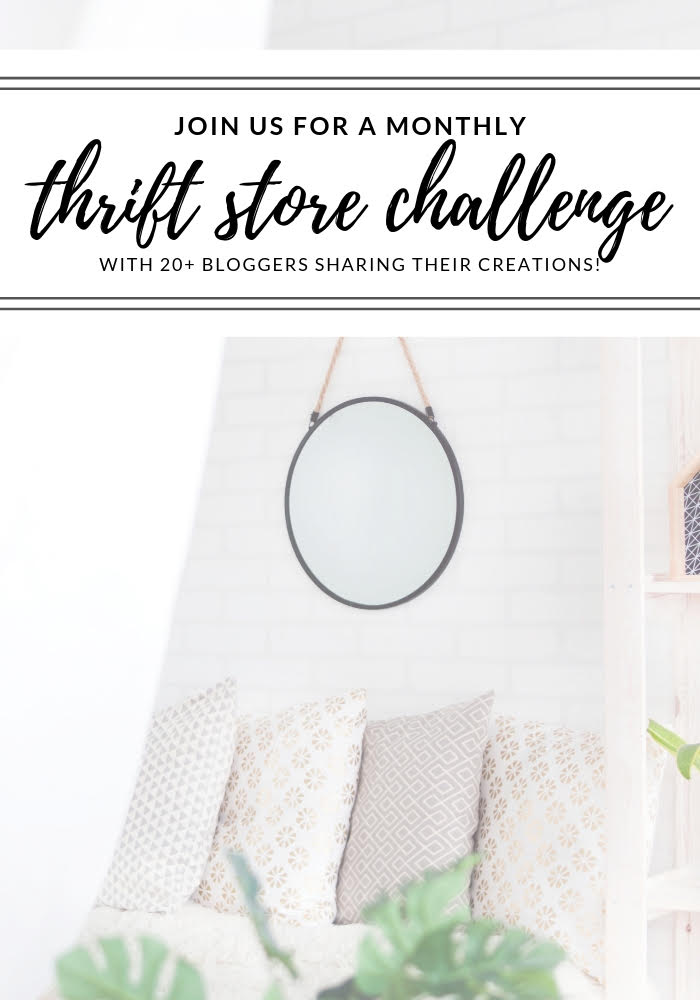 The Rules:
Upcycle an item(s) from a thrift store, resale store, or garage sale into a new piece of decor.
There's no monthly theme.
There's no budget to stick to.
Meet the Hosts
Meredith | Thriftwood Home – Chas | Chas' Crazy Creations – Jenny | Cookies Coffee and Crafts – Gail | Purple Hues and Me – Beverly | Across the Blvd
Disclaimer: This post contains affiliate links, which means I may receive a small commission when you purchase an item at no additional cost to you. Thank you for supporting Thriftwood Home!

Here's where my thrifted desk started:
Can you believe that this desk was only NINE DOLLARS?! I bought it over a year ago, and at the time had no where for it – but I couldn't pass it up! Did I mention it was NINE DOLLARS?!?! A steal.
As soon as I saw it, I knew it would be the perfect candidate to turn a desk into nightstands! I have seen it all over Pinterest and love the look – plus, I had alot more use for new nighstands than a(nother) new desk. Yes, I have a slight thrift store problem 😉 But that's why I love this challenge! It gives me an excuse to actually get these projects completed so I can share them with you.
How to Turn a Desk into Nightstands
I wasn't sure how easy it would be to get apart, so I enlisted my dad and sister to help. I actually found this desk while recovering from surgery after donating a kidney, so I was on lifting restrictions and not able to do much. Thankfully, it turned out to be really easy and my Dad had it done in less than ten minutes!
It turned out that the desk was just attached together with a few extra pieces of wood, so they came apart pretty easily with some pliers and a little force. If you are wanting to turn a desk into nightstands but it's all in one piece, we were planning to use a reciprocating saw if needed. It will vary depending on your desk, but just cut the wood as close to each "nightstand" as possible.
It wasn't the cleanest underneath the connecting wood, but nothing a little paint couldn't fix! I chose Fusion Mineral Paint in Casement to give these nightstands a makeover. I was going to try white washing, but it just didn't turn out as great as I hoped – so I went for a clean white look.
When using Fusion Mineral Paint, don't panic after the first coat! It always looks worse before it looks better – especially when going over dark colors with a light color! You can see on the right, as I'm painting the second coat – it gets much more even coverage.
Since the wood was so dark, I ended up needing three coats in most spots on the nightstands. If yours are a lighter wood (or you're using a darker color), two coats will be plenty. Since I'm going for a coastal farmhouse look, I was 'messy' with my brush strokes to give it a hand-painted, beachy look.
I also did some very light distressing with a sanding block for some more rustic charm.
I focused on the areas that would get natural wear and tear, such as the edges and any raised points.
I'm likely going to swap out the handles on the doors, but I absolutely love the charm of the little lion pulls. Both came with the desk, I just needed a new screw for one of them.
Don't they look so much cuter as nightstands?? I kept the dark wood on top, because I love the contrast – I also want to pull in more wood tones in our coastal farmhouse master bedroom.
I love the curved details on these nightstands, even if they were a pain to paint..
Now, onto the exciting part! Check out what my fellow upcyclers created below!