Looking for a way to DIY Floating Frames? I'm sharing the full step-by-step for turning thrifted frames into DIY Floating Frames.
Happy Thursday, friends! I'm so excited to be bringing you another Thrift Store Challenge today. On the last Thursday of every month, a wonderful group of bloggers get together to share a thrifted or upcycled project.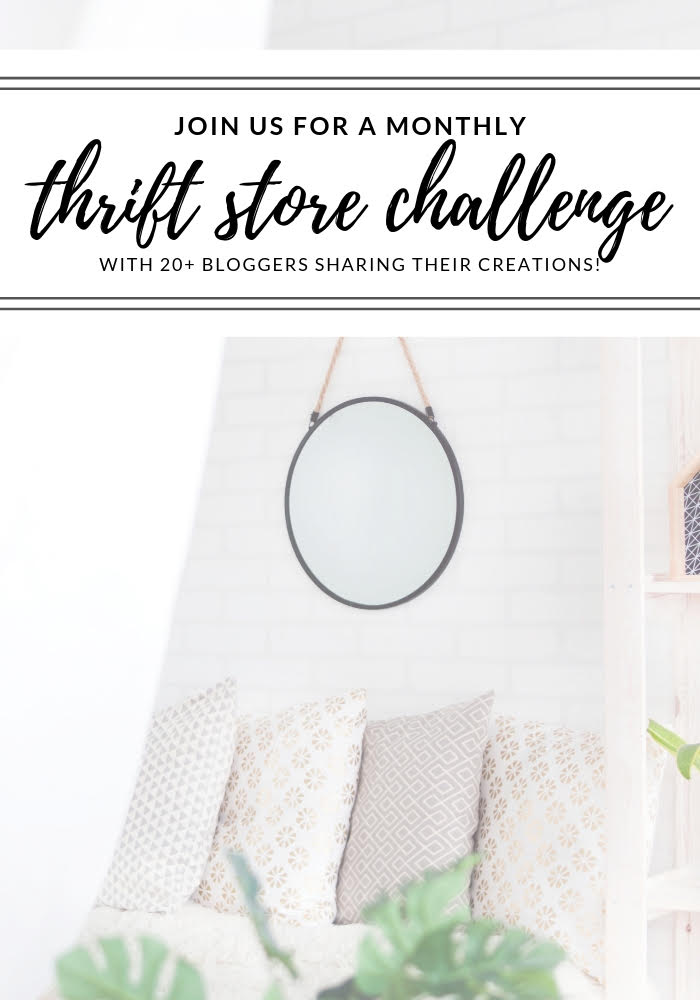 The Rules:
Upcycle an item(s) from a thrift store, resale store, or garage sale into a new piece of decor.
There's no monthly theme.
There's no budget to stick to.
Meet the Hosts
Angela | Simply Beautiful By Angela – Gail | Purple Hues and Me – Jenny | Cookies Coffee and Crafts – Michelle | Our Crafty Mom – Meredith | Thriftwood Home
Disclaimer: This post contains affiliate links, which means I may receive a small commission when you purchase an item at no additional cost to you. Thank you for supporting Thriftwood Home!

I love participating in this each month because it gives me an "excuse" to actually do some of the projects I've had in mind for awhile from thrift store finds! I've been trying to shop less this year, so I've been working my way through my stash of thrifted projects in my to-do pile.
Whenever I'm at the thrift store, I always make sure to check out the frame section. You can find some great, affordable frames this way – some just need a little makeover! If I find a set of 2 or more frames and they're in good shape, I almost ALWAYS buy them for a makeover. Today, I'm taking some thrift store frames and showing you how to make DIY Floating Frames!
I love the look of floating frames – they're essentially a regular frame, but without a mat or frame backing, so it looks as if the print is 'floating' in the frame. They're always so expensive to buy though! Since I'm cheap thrifty, I decided to make a DIY version! Here's what I started with:
I found a set of 4 frames for less than $2 each, and I had to get them! I didn't love the color (though I did consider leaving them as-is to use as Christmas decor when the time comes) so they were the PERFECT candidate for a DIY Floating Frames makeover.
How to Make DIY Floating Frames
To start, I had to remove the price stickers from the frame – probably the hardest part of this entire project. Value Village really likes to stick them on there!
I did a quick google search for "how to get rid of sticker residue without GooGone" and good old hot water was the #1 suggestion. I got a washcloth, some hot water and got to scrubbing. I really didn't have to scrub very hard at all, but I found that it did work best when the water was extra hot, so I did have to re-wet my cloth before finishing.
It was only a few seconds of scrubbing per frame, and all was clear! Now onto Step two – painting your frames! Depending on your style, you could leave the frames as-is if you like the color. I chose to do a few light coats of White Chalk Paint that I got on clearance at Michaels.
You can use any small craft or foam paint brush. I had just bought this set of paint brushes to try out, so I used the smaller 1inch brush for these frames. Because of the dark red, I ended up doing two light coats of white paint for full coverage.
They were super quick and easy to paint once I removed the glass from the frames – no worrying about getting any paint on the glass!
The next step is to attach the glass backings directly to the frames. I used a heavy duty hot glue gun, and it worked just fine for me!
I put a small amount of hot glue in each corner, and quickly placed the glass back down into the glue. Once it was set, I put another thin layer of hot glue on the back of the glass to ensure there was a coating of glue in any cracks between the frame and the glass. I let them sit and dry for a few days before attaching my artwork.
I printed out this set of Vintage Sea Life prints from Southbound Market, which if you didn't know – is my online store!
I printed out the 5″ x 7″ versions for my 8 x 10 frames. I printed two to a sheet on regular printer paper and cut them with my paper trimmer. You can also use scissors or an exacto knife, or print them full size depending on your frame size.
To attach the prints to the frame, I simply centered them on the back of the glass and used clear tape – the kind you use to wrap gifts! If you're up close, you can see the tape but only if you're really looking for it. Using tape allows you to change out the prints as needed, because it's as easy as just removing the tape and swapping out your art!
I only ended up hanging two of my frames, but I love how they turned out! I've been working on decorating my office more so these make the perfect addition above my Blush Pink Cabinet that was made over last year for the Thrift Store Challenge.
What do you think of the frames? Have I inspired you to make your own DIY Floating frames? For more thrifty inspiration, check out what my fellow upcyclers created below!
Want to save this post for later? Pin the image below!
Don't forget to follow along with us on Pinterest!